It is always our goal to provide our patients with the highest quality of care. We also strive to provide our patients with the best customer service that we can, and to provide exceptional treatment outcomes in order to exceed your expectations.
Michelle
I have been working with Dr. Mah since November 2017. I previously had my orthodontic treatment completed by Dr. Mah and loved coming here so much, I wanted to work here! I had such a great experience when I was a patient here and hope to give present patients the same feeling.
In my spare time, I enjoy playing with my 3 dogs – Mia, Diesel and Storm. I enjoy working with Leslie, Chrissy, Dr. Mah and all the patients here at the office. They make everyday a beautiful day with their gorgeous smiles and contagious laughter.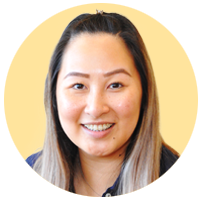 Leslie
I graduated from Vancouver Community College and completed my Orthodontic module through UBC. I've been working in the dental industry for 8 years and enjoy it very much, especially with our team at North Burnaby Orthodontics.
I love working with people of various ages and being able to build a great rapport with our patients. Helping patients on their orthodontic journey and having them finish with an amazing smile is very rewarding.
The most favorite part about my job is adding all the fun colours on the patient's braces!
During my free time, I'm usually catching up on TV shows, painting my nails or dining out at new restaurants in the lower mainland.
Chrissy
I graduated from CDI College in 2017 with a diploma as a Certified Dental Assistant. Shortly afterwards, I completed the Orthodontic Module.
My favorite things about working in this field is that I get to be a part of each patient's journey throughout their treatment and build relationships with them. It's rewarding to see our patients achieve smiles they are proud of.
I enjoy spending time with my friends and family, travelling, and watching my favorite TV shows.